We are a Seventh-day Adventist school located in Greeley, Colorado.
The Adventist Christian School staff are committed to providing quality education in a Christ-filled environment.
We invite you to discover Adventist Christian School - ACS. To learn more about ACS and see what is happening at our school, you can check the links in the menu above.  Call us to schedule a visit (970-353-2770), or explore the website now. The latest newsletter is posted below.
ACS is part of the world-wide Seventh-day Aventist school network. The Seventh-day Adventist educational system includes elementary and high schools, colleges, and universities in countries around the globe.
If you are interested in receiving more information about ACS, click on "Contact Us."

January 21, 2019  -  ACS News Letter      
Up Coming Events
Martin Luther King Day: January 21 -  no school
Teacher In-service:  January 24th - no school.
All school skiing/ tubing:  Friday, February 1st.
Sports
Basketball: Practice Wednesday, January 23rd.
Game:  ACS versus Trinity Lutheran , Tuesday, January 22, at 4:00.  Game will be at ACS.
Game:  ACS versus HMS on Thursday, January 31st at 3:30 at ACS.
Lunches (Note:  No Monday or Thursday hot lunch  this week.)
Monday: Pizza from Pizza Hut.  Cost is $6.00 for a meal, $2.00 for additional/single slices.  Please note:  pizza rates have increased by   $1 for a meal due to an increase in costs from the restaurant.  
Tuesday:  No hot lunch
Wednesday: No hot lunch
Thursday:  Pizza from Pizza Hut, Cost is $6.00 for a meal, $2.00 for additional/single slices.  See note above concerning cost increase.
Individual Rooms
K-2
Study for the spelling test.
3-5
Spelling is week 16. Please help your child remember to study.
6-8
Spelling is week 16.
Memory Verse quiz  on Wednesday.
Science Project Proposals:  Due Tuesday the 22nd.
Book Reports:  Due the last Thursday of each month.
Odds and Ends
Farm Show:  3rd-8th will be visiting the Farm Show on Wednesday the 30th.  We will be attending for only a couple of hours, and will have a related assignment.  Any parents wishing to attend are welcome to join us.
ACS SKI/TUBING DAY:  Our annual ski day will be skiing and tubing on February 1st.  Since we only have 5/6 interested in skiing, they will be going to Loveland with parents and the tubing will be at Copper Mountain.  We will need  parents to help us with transportation and supervision.  Any K-2  students tubing MUST have parents with them.  Prices are as follows:  Skiing  lift ticket, $34.  Rental plus helmet is $27, rentals only, $20.  All students must wear  a helmet...either their own or a rental.  Tubing for two hours, $34.   Please sign and return the interest slip asap if you have not already done so to help us with planning.  A final permission slip will be sent out Tuesday the 22nd.
Please Note:  The week of January 21 turns out to be only Tuesday and Wednesday school.  Monday is MLK Day, and Thursday is our Teacher In-service at the Conference Office.  The in-service was originally scheduled for the 31st, and may read so on some of the older calendars.  The Conference notified us of this change after some of the calendars had been sent out, so if yours says the 31st, please note the change to the 24th.  This was updated on more recently distributed calendars.
Music Festival:   Grades 5-8, it's still a ways off, but time to start thinking about putting a little money away for Music Fest at Campion Academy on March 21-23.  The cost was $30 last year.  If you have money in your field trip account, you may use that to cover Music Fest.
Please make sure your child's immunizations are current and a copy is at the school.  If you opt out of immunizations, a form must be signed and on file at the school as well.  All children must also have a copy of a birth certificate on file.
Violins: If your student is taking violin lessons, please make sure you are paying the $10 monthly fee.  This only covers a portion of the cost to provide this program, but helps us offset the overall expenditure.
Front Door Help:  We need help covering the front door in the mornings.  The time would be from 7:45- 8:30.  If you would be willing to volunteer,  the teachers would greatly appreciate it!
Parent Volunteers needed: If you are interested in helping the school, we have several opportunities.  We need a parent to take care of our Box Tops for Schools program, and the King Super's fundraiser. Please speak to Mr. or Mrs. G if you are interested in helping with either of these programs.    We need help in many different areas. Please be thinking of how you would like to use your talents and skills for ACS.
Box Tops do add up!  We were able to send in enough this time to give ACS almost $50.  We had $49.80 worth of box tops!  Please take the time to save these.  They all add up!  Thank you Mrs. D for counting and helping us!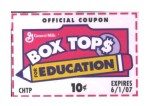 Save "Box Tops for Education" :  Look for the "Box Tops for Education" coupons on products that you use.  Clip them out and send them to school.  Each coupon is worth 10 cents and they add up to $100 to $200 or more for ACS.  Get all your relatives and friends to save them for ACS, also.  Click here to see a list of participating products.
Check the "Photos" link in the "Menu" to see new pictures.  Be patient. There are a lot of pictures and they take a little bit to load.  Enjoy.
 
Videos of Christmas Program - Click on "Media" in the "Menu" above.