We are a Seventh-day Adventist school located in Greeley, Colorado.
The Adventist Christian School staff are committed to providing quality education in a Christ-filled environment.
We invite you to discover Adventist Christian School - ACS. To learn more about ACS and see what is happening at our school, you can check the links in the menu above.  Call us to schedule a visit (970-353-2770), or explore the website now. The latest newsletter is posted below.
ACS is part of the world-wide Seventh-day Aventist school network. The Seventh-day Adventist educational system includes elementary and high schools, colleges, and universities in countries around the globe.
If you are interested in receiving more information about ACS, click on "Contact Us."

November 12th, 2018  -  ACS News Letter      
Up Coming Events
Thanksgiving Vacation:  November 16th-23rd.  Regular dismissal time on Thursday.
Church Program:  ACS Presentation, at Greeley, December 1st.
Sports
Volley Ball: 
Practice: Monday, November 12, 4-5:15 p.m.
Away game Tuesday, November 13th.  ACS verses Brighton, 3 p.m.  We will be leaving at 2:00 p.m.   
ACS had a successful week last week, defeating both Brighton and HMS.  The team played well together, and showed good sportsmanship.
Lunches
Mondays and Thursday: Pizza from Pizza Hut.  Cost is $5.00 for a meal, $1.50 for additional/single slices.
Tuesday:   Special 2nd Tuesday of the Month Hot Lunch.  Lunch will be lasagna, salad, bread, and pie.  $4.
Wednesday: No hot lunch
Individual Rooms
K-2
Study those spelling words.  
We will be having a special treat on Thursday for Thanksgiving.  Normal lunch, and regular dismissal time.
3-5
Spelling is week 11.  Please help your child remember to study.
We will have a normal lunch on Thursday, but will have a special treat for dessert. There will be regular dismissal time.
6-8
Spelling is week 11.
Memory Verse Quiz will be this Thursday.
Thanksgiving Lunch:  We will have a regular lunch this Thursday, but will be sharing desserts/snacks after lunch.
Thanksgiving Baskets:  6-8th graders will be helping pack Thanksgiving baskets in conjunction with the Greeley Church.  If you can donate any nonperishable food items, we will be collecting these until November 14th. 
Odds and Ends
Spirit Week!  Show your school spirit this week by dressing in the following ways:
Monday:  Crazy Hair Day
Tuesday:  Pajama Day
Wednesday:  Wild West Day
Thursday:  Thanksgiving Day  
Clean up Day:  On Thursday, grades 3-8 will be helping to rake leaves and clean up the school grounds.  We want to show pride in our school, and show that we are thankful for ACS. Please send rakes if you are able to.  Thank you!
Please make sure your child's immunizations are current and a copy is at the school.  If you opt out of immunizations, a form must be signed and on file at the school as well.  All children must also have a copy of a birth certificate on file.
Violins: If students in grades K-2 are interested in taking violin lessons, please contact Mrs. G. Students in K-2 may join us at a cost of $10 per month.  Students must be willing to practice, and put forth effort in learning to play.
Parent Volunteers needed: If you are interested in helping the school, we have several opportunities.  We need a parent to take care of our Box Tops for Schools program, and the King Super's fundraiser. Please speak to Mr. or Mrs. G if you are interested in helping with either of these programs.    We need help in many different areas. Please be thinking of how you would like to use your talents and skills for ACS.
Box Tops do add up!  We were able to send in enough this time to give ACS almost $50.  We had $49.80 worth of box tops!  Please take the time to save these.  They all add up!  Thank you Mrs. D for counting and helping us!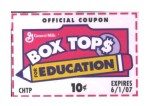 Save "Box Tops for Education" :  Look for the "Box Tops for Education" coupons on products that you use.  Clip them out and send them to school.  Each coupon is worth 10 cents and they add up to $100 to $200 or more for ACS.  Get all your relatives and friends to save them for ACS, also.  Click here to see a list of participating products.
Check the "Photos" link in the "Menu" to see new pictures.  Be patient. There are a lot of pictures and they take a little bit to load.  Enjoy.