We are a Seventh-day Adventist school located in Greeley, Colorado.
The Adventist Christian School staff are committed to providing quality education in a Christ-filled environment.
We invite you to discover Adventist Christian School - ACS. To learn more about ACS and see what is happening at our school, you can check the links in the menu above.  Call us to schedule a visit (970-353-2770), or explore the website now. The latest newsletter is posted below.
ACS is part of the world-wide Seventh-day Aventist school network. The Seventh-day Adventist educational system includes elementary and high schools, colleges, and universities in countries around the globe.
If you are interested in receiving more information about ACS, click on "Contact Us."

May 13,  2019  -  ACS News Letter      
Up Coming Events
Kindergarten Graduation:  May 13, 2 p.m.
Awards Assembly:  May 14th, 11 a.m.
Last Day of School and 8th Grade Graduation:  May 14th
Sports
ACS sports program is finished for the 2018-2019 school year.  Sports awards will be given at the Awards Assembly on May 14th at 11 a.m.
Monday: Pizza from Pizza Hut.  Cost is $6.00 for a meal, $2.00 for additional/single slices.  Please note:  pizza rates have increased by   $1 for a meal due to an increase in costs from the restaurant.  
Tuesday: No hot lunch
Wednesday:  No hot lunch
Thursday:  Pizza from Pizza Hut, Cost is $6.00 for a meal, $2.00 for additional/single slices.  See note above concerning cost increase.
K-2
Kindergarten Graduation:  Kinder graduation will be held Tuesday the 13th at 2 p.m.
3-5
Finish up any work as needed.
6-8
Eighth Grade Graduation:  Graduation will be Tuesday, May 14th at 7 p.m.  Students need to be at the school by 6:30.  Mr. Jeff Neidigh will be the speaker.  Reception to follow.
Odds and Ends
May Student of the Month:
K-2:  Nayavah Parker, Ava Davis
3-5:  Helena Schulte, Laila Davis
6-8:  Aaron Oster, Carlos Silva, Oscar Dominguez
Last Day:  Tuesday the 14th is our last day of school this year.  This will be a half day with a 12:15 dismissal.  See you all next year!
Please make sure your child's immunizations are current and a copy is at the school.  If you opt out of immunizations, a form must be signed and on file at the school as well.  All children must also have a copy of a birth certificate on file.
Violins: If your student is taking violin lessons, please make sure you are current with the the $10 monthly fee.  This only covers a portion of the cost to provide this program, but helps us offset the overall expenditure.
Box Tops do add up!  We were able to send in enough this time to give ACS almost $50.  We had $49.80 worth of box tops!  Please take the time to save these.  They all add up!  Thank you Mrs. D for counting and helping us!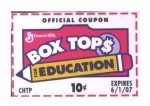 Save "Box Tops for Education" :  Look for the "Box Tops for Education" coupons on products that you use.  Clip them out and send them to school.  Each coupon is worth 10 cents and they add up to $100 to $200 or more for ACS.  Get all your relatives and friends to save them for ACS, also.  Click here to see a list of participating products.
Check the "Photos" link in the "Menu" to see new pictures.  Be patient. There are a lot of pictures and they take a little bit to load.  Enjoy.
 
Videos of Christmas Program - Click on "Media" in the "Menu" above.